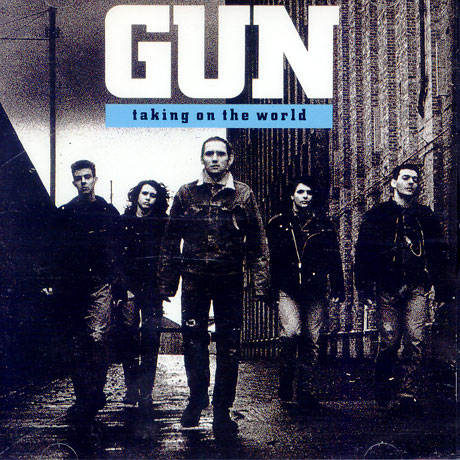 Es curioso, en poco menos de dos meses pasarán por aquí dos grupos muy distintos, pero que llegaron a tener cierta resonancia a finales de los ochenta y principios de los noventa. Son los escoceses Gun y los norteamericanos Living Colour. Ambos desaparecieron de la faz de la tierra a mediados de la pasada década, y ambos se han reunido hace poco.
A los de Glasgow los descubrí en su excelente debut "Taking On the World" (1989), que me compré en cassette. Tras su segundo álbum, "Gallus" (1992), igualmente notable, les vi en un memorable concierto de Zeleste 2. Su cantante Mark Rankin, acabó colgado del techo y si no recuerdo mal, se grabó un videoclip en directo dado el gran ambiente que reinaba en la sala. Tres años más tarde, volvieron con "Swagger", un álbum sorprendente y semifallido, en el que cambiaban de registro a cada canción (incluso en alguna parecían Rage Against The Machine...), dejando de lado el glorioso hard rock de sus inicios. Era la señal de que empezaban a perder el rumbo... Su bolo de presentación, ya en Zeleste 1, no llegó al nivel del precedente.
Y en 1997 se descolgaron con un gran despropósito titulado "0141 632 6326", producido por Andrew Farris (teclista de INXS), y en el que abandonaron definitivamente el rock con mayúsculas para adentrarse en el pop más comercial y moñas. Incluso su cantante sufrió un cambio de look radical: adiós melenas y bienvenido el tinte rubio platino... Sin comentarios...
Pero el año pasado Gun se reactivó, sin su cantante original, y el próximo 25 de octubre visitarán la sala Salamandra de Hospitalet. Imagino que acudiré a la cita, y reconozco que por pura nostalgia. Espero que los hermanos Gizzi, únicos miembros originales, no me decepcionen...
Otro cantar son Living Colour. Los de Nueva York son un cuarteto de rock alternativo negro. En 1990 no dudé en hacerme con su segundo elepé, el excelente "Time's up" (también en cassette), y acudí a su enorme bolo en Zeleste 1, en junio de 1991. Era mi tercer concierto (el primero fue en noviembre de 1990, INXS, en el Palacio de los Deportes. Desde entonces ha llovido muchísimo...) y lo disfruté como pocos. Pero me perdí su siguiente bolo, donde presentaron en la misma sala su brillante "Stain" (1993). Tras este disco se separaron, hasta que hace seis años editaron el malísimo "Collideoscope", una lacra en su carrera.
El año pasado volvieron por Barcelona, pero no me enteré y me los perdí. Ahora tienen previsto tocar el 16 de diciembre, pero en Terrassa, por lo que si alguien tiene previsto acudir y dispone de vehículo propio, un humilde servidor se lo agradecería enormemente. Presentarán su próximo disco, "The Chair in the Doorway", que no he escuchado todavía. Por el setlist que he visto de esta actual gira, donde tiran sobre todo de viejos clásicos, la actuación huele a memorable... Y me quiero quitar la espina del año pasado...